Waterloo to be focus of series of talks in Aberdeen
Aberdeen's Maritime Museum has organised a series of free lunchtime talks to commemorate the 200th anniversary of the Battle of Waterloo.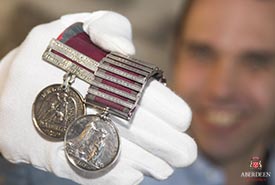 The year 2015 marks two centuries since the conflict which is regarded as a defining moment in modern European history.
The battle also signalled an end to wars caused by the French Revolution, while providing inspiration for the name of one of London's biggest railway stations and a hit song by Swedish pop group Abba in the 1970s.
The talk at the Maritime Museum on Wednesday, 3 June, from 12.30pm to 1pm, will explain the background to the clash, what happened during the battle and the roles and motivations of the nations involved. The presentation will also look at why Waterloo still has a resonance in society today.
Maritime Museum Curator Jason Finch said: "2015 is the 200th anniversary of the Battle of Waterloo, a watershed moment in European history. To commemorate this, Aberdeen Maritime Museum has organised series of free lunchtime talks looking at the battle and other aspects of the Napoleonic Wars."
The series will continue on Wednesday, 10 June, with a talk by Stewart Thain in Aberdeen Central Library from 12.30pm to 1pm on Campaign Medals.
Mr Thain, an expert in numismatics, the study of currency, will explore the campaign medals held in the collections of Aberdeen Art Gallery and Museums.
These range in date from the Crimean War through to the Second World War, and include a Waterloo Medal and the recently-acquired Military General Service Medal awarded for action in the Peninsular Campaign of the Napoleonic Wars.
On Wednesday, 17 June, from 12.30pm to 1pm at the Maritime Museum, Curator Mr Finch will give another talk, titled A Pirate by Any Other Name.
This will explore records which show that at least three Aberdeen-built ships were taken as prizes by enemy ships. Such vessels were often privateers, who were private individuals with approval from their government to operate armed ships with the aim of taking merchant ships belonging to their enemy. The talk will examine the long history of this form of legalised piracy and the notable figures such as Sir Francis Drake who took part in it.
On Wednesday, 24 June, from 12.30pm to 1pm at the Maritime Museum, Curator (Fine Art) Olga Ferguson will give a talk titled The Art of Sir David Wilkie.
The presentation will examine the artistic career of Sir David (1785-1841), with particular emphasis upon works in the collection of Aberdeen Art Gallery. During his lifetime, Sir David was on a par with Turner and Constable as one of the three great British painters of the early 19th century. His art ranged from humble genre scenes of the poor to portraits of great men of his age, including the Duke of Wellington.
All talks are free, but booking is essential, call 01224 337714 to reserve a place.
Aberdeen Maritime Museum, Shiprow, Aberdeen, AB11 5BY
Open Monday-Saturday 10am-5pm, Sunday 12pm-3pm.
Email: info@aagm.co.uk Website: www.aagm.co.uk