Scores of children take part in orchestra's summer school in Aberdeen
An orchestra which aims to change the lives of its young members has seen scores of children take part in its first summer school in Aberdeen.
Launched in June, Big Noise Torry got off to a great start with up to 40 children attending the summer school daily in the past month.
Big Noise Torry is delivered in partnership between Aberdeen City Council and the charity Sistema Scotland. The Big Noise orchestra is inspired by Venezuela's "El Sistema" movement, which believes the symphony orchestra and choir are instruments for social change and community development.
A concert to mark the end of the first Big Noise Torry summer school was held in Torry Academy today (Thu 30 Jul) and was attended by parents of the children involved and the wider community. The audience also included the Leader of Aberdeen City Council Councillor Jenny Laing and Convener of Education and Children's Services Councillor Angela Taylor.
The summer school was open to children due to enter P3 at Walker Road School and Tullos School in the Torry area at the start of the new school year in August 2015. From Tuesday 01 September the P3 pupils will be invited to attend Big Noise after-school sessions at Torry Academy. P1 and P2 children will also be taught by Big Noise Torry tutors from Monday 24 August. Sessions for nursery and baby sessions are also planned.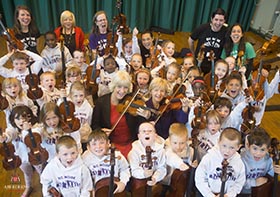 Aberdeen City Council has committed to providing 75% of the funding for Big Noise Torry. This equates to:
Further support is coming from Aberdeen Harbour Board; Capital Solutions; Creative Scotland; The MacRobert Trust; Nexen Petroleum U.K. Limited; Players of the People's Postcode Lottery; Sigrid Rausing Trust; Andrew Salvesen Family Trust and Total E&P UK Limited among others.
Torry is the third community in Scotland to establish a Big Noise orchestra and evidence from Sistema Scotland's work in other communities shows how involvement in music-making is hugely beneficial to participants educationally and socially, as well as improving their general wellbeing.
Councillor Taylor said: "I am delighted that the Torry community has seized the opportunity to be part of this fantastic initiative. By working in partnership with Sistema Scotland we have a genuine chance to provide life-enhancing and life-changing experiences to the young children of Torry and their families."