Christmas Tree Lights Switched On
Hundreds of people attended the Switch-On Ceremony for Aberdeen's Christmas Tree yesterday.
The 35-ft Norway Spruce, which is a gift every year from the city's twin city of Stavanger in Norway, arrived in the city's harbour almost two weeks ago and was later erected at the Castlegate by Aberdeen City Council tree staff.
The Switch-On Ceremony, which started at 7pm, is part of the city's Winter Festival with this year's event being the biggest Aberdeen has ever had, with festive fun for all ages.
The Switch-On Ceremony will be carried out by The Lord Provost of Aberdeen and the Deputy Mayor of Stavanger, as 2015 is the 25th anniversary of the twinning between the two cities.
Aberdeen Lord Provost George Adam said: Aberdeen Lord Provost George Adam said: "The city centre feels very festive with the Christmas Tree lighting up the Castlegate.
"It was a pleasure to switch on the lights with the Deputy Mayor of Stavanger whose city has been so generous in gifting the tree to us again. It was a great turnout for the service with traditional Christmas carols and Norwegian music from twin city visitors, and fantastic to see so many people in the city for the start of the festive season.
"As well as a wonderful festive occasion, it was a great opportunity to celebrate 25 years of our twinning partnership with Stavanger."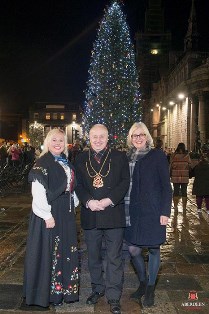 The Ceremony included a performance from Ann-Kristin Sørvåg, a soprano and vocal artist from Stavanger who has a distinctive voice with a clear and brilliant timbre. She has lived and worked as a singer abroad in cities such Berlin, and now lives in Stavanger, Norway. When Stavanger became European Capital of Culture in 2008, she was invited to sing at the opening ceremony, were she was cooperating with the Stavanger rapper Atlars ( Lars Tønnesen). Ann-Kristin Sørvåg has performed numerous lieder recitals, church concerts and has sung solo roles in oratorios and orchestral concerts as well as operaroles. She has had concerts at Troldhaugen in Bergen.
Several successful partnerships between organisations in Aberdeen and Stavanger have been cultivated over the years – from businesses sharing trade to school and youth groups participating on exchange visits.
Also switched on yesterday were the Christmas trees outside the front of Marischal College and the city's Leopard, which usually sits in the pocket park in front of His Majesty's Theatre but this year will be in a grassed area in front of Marischal College on the corner of the Gallowgate and Littlejohn Street.
More information is available from aberdeenchristmas.co.uk